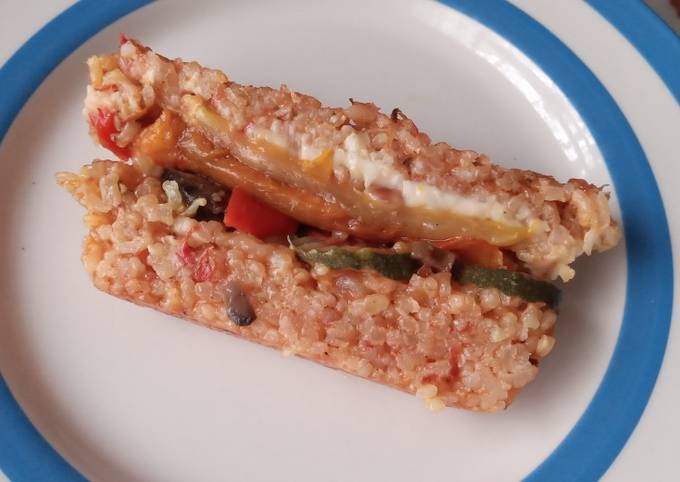 Mediterranean Rice & Vegetable Loaf.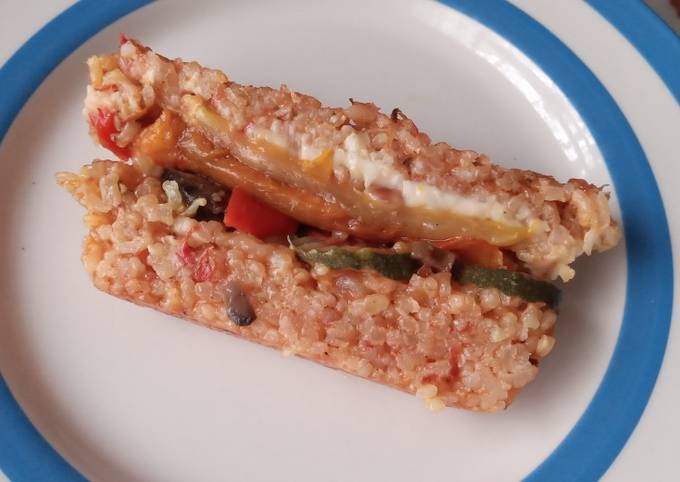 You can have Mediterranean Rice & Vegetable Loaf using 19 ingredients and 15 steps. Here is how you achieve it.
Ingredients of Mediterranean Rice & Vegetable Loaf
It's 1 of Onion, finely chopped.
It's 2 tbsp of olive oil + 1 tbsp for vegetables.
Prepare Pinch of saffron.
You need 1/2 tsp of fennel seeds.
Prepare 2 of garlic cloves, crushed or finely grated.
Prepare Pinch of chilli flakes.
You need 1 tin of tomatoes, chopped (see tip).
It's 3-4 of sundried tomatoes in oil, drained and finely chopped.
It's 400 g of risotto or paella rice.
Prepare 1 of couple of good pinches of salt.
It's of Freshly ground black pepper.
You need 1.2 litres of hot chicken or vegetable stock.
Prepare 1 tsp of dried basil.
You need Splash of sushi seasoning vinegar or wine vinegar + 1 tsp sugar.
It's 1 bag of frozen Mediterranean vegetables mix.
Prepare 1 of smidge of Butter, for greasing the tin.
It's 125 g of provolone piccante or pizza mozzarella or mixture of them.
You need 100 g of roasted red peppers, peeled (see tip).
You need 60 g of /2 tbsp toasted pine nuts.
Mediterranean Rice & Vegetable Loaf instructions
Saute the onion in the 2 tbsp olive oil with the Saffron in a large pan for 10 minutes on a low heat..
Add the fennel seeds, garlic and chilli flakes and cook for another minute or two before adding the sundried tomatoes, tinned tomatoes and the rice..
Increase the heat and cook for 5 minutes, simmering to reduce liquid. Season well..
Have the stock simmering in a separate pan..
Stir the rice and add a ladle of stock. Stir again. Once absorbed, repeat until all stock is used..
Check the seasoning (and that the rice still has a little bite) by tasting. Add the dried basil, then remove from heat and, allow to cool..
Heat oven to 180C..
In a wok or large frying pan, add a tbsp of olive oil. Stir fry the vegetables until all liquid has disappeared and the vegetables are cooked through and becoming golden..
Butter a 2 lb loaf tin and lay a strip of greaseproof paper along the bottom..
Press 1\3 of the rice mixture into the bottom of the loaf tin..
Then put in half the vegetables, peppers, half the pine nuts, followed by a layer of the cheese..
.
If using a large tin you may be able to repeat step 11. Either way, finish with a layer of rice..
Place the loaf tin in the oven and bake for 30 minutes, until golden brown. Remove and carefully run a knife around the edge, then turn out onto a serving plate..
Slice to serve, eating it either hot or cold..
Welcome to the official American Food Website, where you can chat with chefs, get recipes and connect with food-minded friends.