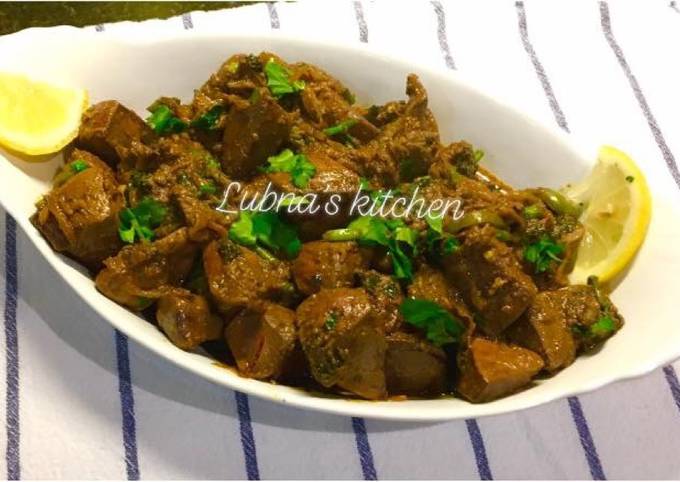 Masala Liver Fry/ Masala Fry Kaleji.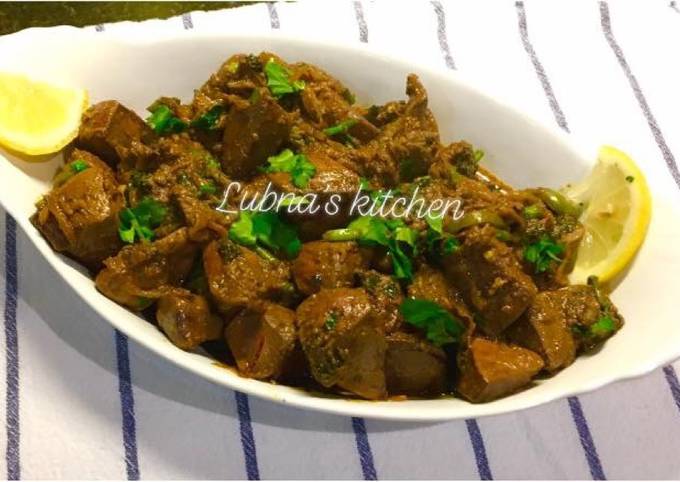 You can have Masala Liver Fry/ Masala Fry Kaleji using 16 ingredients and 5 steps. Here is how you cook it.
Ingredients of Masala Liver Fry/ Masala Fry Kaleji
Prepare of lamb / mutton liver cut into bite size pieces.
It's of oil.
Prepare of brown onion cut into thin slice.
You need of ginger garlic paste.
You need of green chilli paste.
Prepare of coriander powder.
It's of cumin seeds.
Prepare of red chilli powder.
Prepare of turmeric powder.
It's of salt, to taste.
You need of chopped tomato fresh or canned (choice).
Prepare of dried fenugreek leaves.
You need of coriander leaves, chopped.
It's of green chillies chopped.
It's of garam masala.
You need of Lemon juice.
Masala Liver Fry/ Masala Fry Kaleji step by step
Remove the unwanted skin from it and wash the lamb liver thoroughly. Cut the lamb liver bite size pieces. Marinate it with ginger garlic paste and keep it aside until you prepare other things..
In a wok or pan fry onion on slow heat for 10 minutes. When onion slices are very soft increase heat to medium and stir constantly until light golden. 
Mix all spices but 👉do not add salt this is really important step so must follow and then add tomatoes stir well. Cover and cook on medium heat for 5-7 minutes. When tomatoes are soft stir on high heat and dry all tomato water..
When oil separates on sides of wok Then add liver pieces and stir for a 5-6 minute until color changes. Cover and cook for 2 minutes on medium flame. Remove lid, sprinkle salt and fenugreek leaves. Cook for another 2 minutes on high heat continue stirring..
Finally, remove from heat and cover the pan and rest it for 4-5 minutes at least. The steam in the pot will cook the liver completely. Before serving reheat on high flame and burn any excess water. Sprinkle garam masala fry 1 minute add lemon juice..
Garnish with green chillies, green corianders. Serve with lemon wedges and hot naan or white boiled rice.
Welcome to the official American Food Website, where you can chat with chefs, get recipes and connect with food-minded friends.