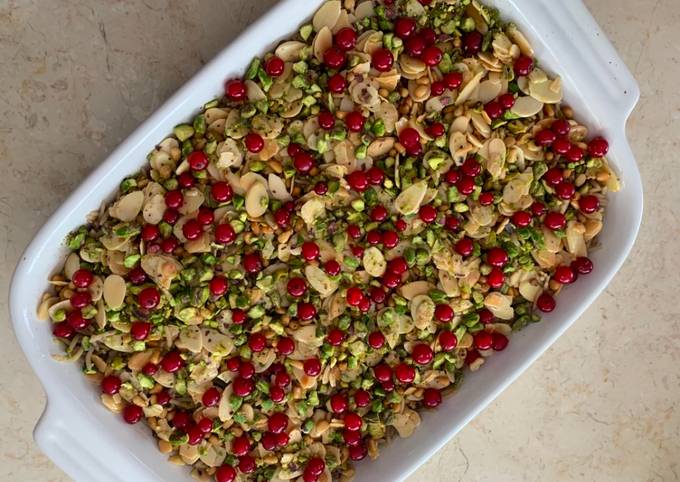 Middle Eastern Mushroom Rice.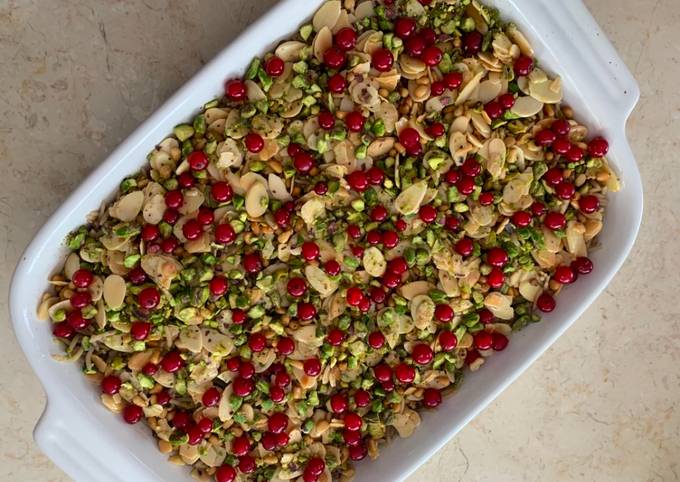 You can cook Middle Eastern Mushroom Rice using 25 ingredients and 10 steps. Here is how you achieve that.
Ingredients of Middle Eastern Mushroom Rice
Prepare of Stock.
You need 2 L of water.
Prepare 4 of celery stalks, quartered (include leaves).
It's 4 of carrots, halved by length and width.
It's 4 of large brown onions, halved.
It's 8 of garlic cloves, lightly bashed.
You need 1 of cinnamon stick.
It's Bunch of parsley.
You need of Rice.
It's 3 cups of golden sella basmati rice*.
It's 1 tsp of allspice.
You need 2 tsp of Hoyts mixed spice**.
Prepare 2 tsp of cumin.
Prepare 2-4 tsp of salt (I add 4, it depends on your salt preference).
You need 2 tsp of powdered white pepper.
Prepare 2 Tbs of mild oil (rice bran, vegetable, etc).
Prepare 1 kg of mushroom mince***.
You need of Drizzle of olive oil.
Prepare of Toasted garnish.
It's 2 Tbs of mild oil.
It's 150 g of pine nuts.
You need 150 g of sliced almonds.
You need of Fresh garnish.
Prepare 50 g of pistachios, crushed.
You need 1/2 cup of fresh red currents or pomegranate.
Middle Eastern Mushroom Rice instructions
First make the stock by bringing to the boil all stock ingredients except parsley in a deep pot. Reduce heat, cover and allow to simmer for an hour..
Meanwhile wash and drain the rice in a bowl. Add the all spice, mixed spice, cumin, salt and white pepper and allow to sit and marinate while the stock is simmering..
Add parsley to the stock and simmer for another half hour. Once the stock is finish remove all the chunky stuff including cinnamon and bay leaves keep warm..
Heat 2 Tbs oil in a large, broad based pot on medium heat. Fry the mushrooms for 3-4 minutes or until just tender. Add the rice, stir in and toast with the mushrooms for another 2-3 minutes..
Pour half the stock into the rice, scrape down the sides so all rice is submerged. Cover and allow to simmer until 3/4 liquid has been absorbed. Add the rest of the stock, stir a little, cover and again, simmer until 3/4 is absorbed. Be gentle when stiring to avoid breaking the rice grains..
Turn the heat off and leave the lid on the pot, the rest of the liquid will absorb out passively and leaves you with a really smooth, moist rice..
Heat 2 Tbs oil in a frypan on low heat. Add the pine nuts and almonds and toast while stirring for 2 minutes or until they have just started to change colour. Remove from heat and from stove to avoid the nuts from burning. They will continue to toast in the hot oil..
Drizzle the rice with some olive oil and mix in..
Sprinkle the toasted nuts over the rice, and drizzle with the remaining oil in the frypan (very tasty nutty oil)..
Garnish with crushed pistachios and red currants..
Welcome to the official American Food Website, where you can chat with chefs, get recipes and connect with food-minded friends.